Our chai
is so much more than a great drink; we're invested in the experience beyond the cup, and passionate about quality. With Third Street Chai, the only way to brew a tea we're proud of is using the best of the best, and that simply comes down to our herbs and spices. We are the first Fair Trade Certified chai in the world. We are proud to use Fair Trade ingredients, where we can foster that relationship with our growers, suppliers and team.
And you know what?
We can taste the difference of ethically-sourced spices, while doing business with amazing farmers…it's really nice to have pen pals all over the world who can rejoice in the love for cinnamon sticks, you know? And as serious spice fiends, we geek out about the journey of our ingredients, from root to cup. We travel to India, Indonesia, Sri Lanka, Egypt, and Trinidad every year to visit our farmers and yes, spend our days smelling buckets and buckets of fresh cardamom and nutmeg. 10/10 recommend.
The adventurous spirit and hearty goodness goes into the legacy of every cup, and well, it's part of the secret recipe…shhh! You can sip pretty knowing that our ingredients come from a high standard of economic, environmental, and social criteria.
Yerba maté is an "herb from the gods", as the Guarani people called it, and originates from South America. It makes a delicious mate, an herbaceous and botanical-infused tea. The history of yerba maté is steeped with folklore, and we are honored to celebrate it.
Meant to be shared from a gourd, we created our Yerba Maté Chai echoing the warm sentiment of enjoying it in good company (or honestly, with yourself). We're here for it. Our yerba maté chai is an elixir of black tea and spices, with a plant-powered caffeine boost.
This one's for the hustlers, go-getters, dreamers, members of #TeamNoSleep. This is a quadruple whammy with antioxidants, caffeine, stamina-fueling goodness, and mind-sharpening powers. Cue Ciara, this is major leveling up!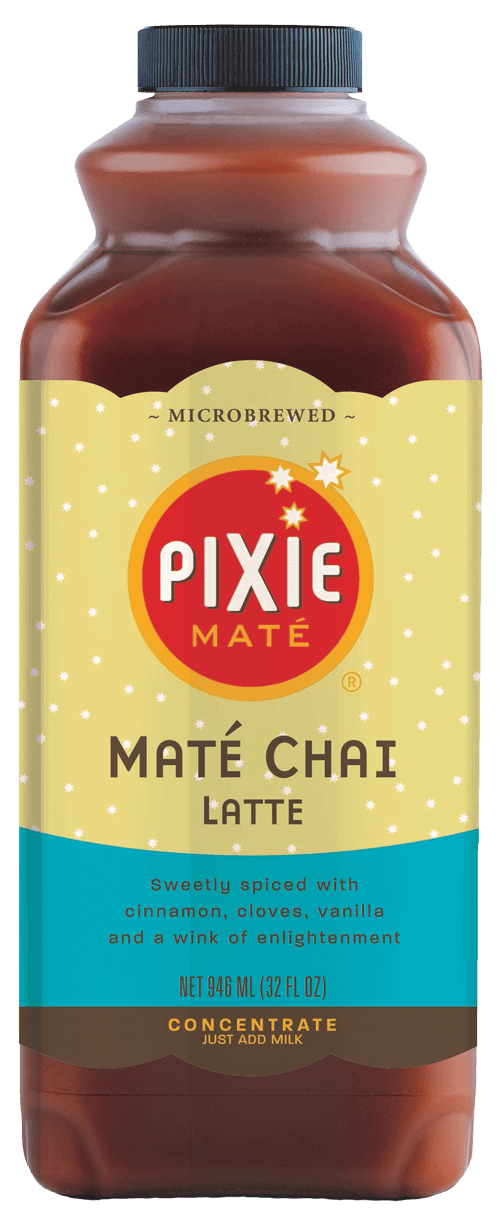 Cinnamon,
a tree bark, is traditionally used to boost circulation and breathing, increase awareness, reduce fatigue and even as an aphrodisiac
Black Pepper,
another circulation booster, is also a good pal for boosting the metabolism, countering the chills and keeping the nerves in a balanced, healthy state. Attila the Hun – that darling – demanded pepper as ransom during the siege of Rome in AD 408.
Ginger,
a steady stimulant for the circulatory and immune systems, has been used to treat such disparate conditions as impotence and motion sickness.
Nutmeg
was used by ancient Arab physicians to treat kidney and lymph troubles. It's also been used for centuries to ease sciatic pain (that's the biggest nerve in your body, heading all the way from your lower back to your feet) and promote digestion.
Clove
is a dentist's best buddy when it comes to natural pain relief and general antiseptic needs. Or it was, until they realized we preferred to be knocked out entirely. Like pepper and ginger, clove is also used to increase the potency of herbal blends.
Cardamom,
a natural mood elevator, is a popular favorite in both Indian and Chinese herbal healing traditions to benefit the lungs, kidneys and heart.
Fennel
had a star role in the royal herb gardens of medieval France and Germany, and is still widely used to treat laryngitis, as well as kidney and ocular complaints. (That's your eyeballs. But don't go sticking chai in your eyeballs.)